Description
Rhino-Rack – Vortex SX
The SX roof rack system is designed specifically for use with roofs that feature rails. Easy to install and remove, it comes with security hardware to protect your racks against theft.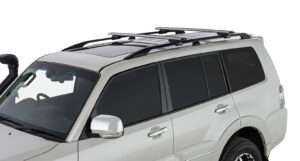 An added benefit of using Vortex bars is that you'll have access to a wide selection of compatible Rhino-Rack accessories. So whether you're a traveller, cyclist, surfer or tradesperson – the SX roof rack system has you covered.
The SX legs are designed to fit a wide range of vehicles with rails – including raised rails as well as solid or flush rails. Installation / removal is quick and easy.
The Rhino-Rack Vortex bars are available in black or silver and are cut to 7 different predefined lengths to suit different vehicles. All bars include the VGS rubber strip which has been designed to reduce wind drag and noise as well as providing added protection for your roof racks and load. All bars include end caps.
Pricing shown is indicative only based on a 2 bar system including 118cm or 126cm cross bars and legs. Installation at our Mona Vale store is available at no extra charge.
Please call or send an online enquiry with details of the make, model and year of your vehicle and we will confirm the most suitable system and price the system to fit your car.